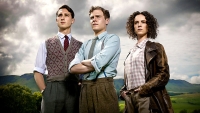 For those of you who missed season one on BBC One and have no idea what I am talking about, you probably won't be disappointed. But for those of you who watched it and loved it, it is quite sad. You can get the DVDs at the UK Amazon for Young James Herriot but they are only region 2. Here is the synopsis and the official Young James Herriot website:
The plot is based on the early life and studies of veterinary surgeon James Herriot, known for his autobographical books which were the basis for the BBC show All Creatures Great and Small. The idea for the programme came from Herriot's adventures as a veterinary student. While the plot centres around Herriot, other topics come up like the subjugation of women, the treatment of students by Professor Gunnell – one of the professors at the college, and the rise of the fascist movement in the UK.
Episode 1
6.73 million viewers
James Herriot dreams of nothing more than becoming a vet, so is very pleased when he is accepted by a prestigious veterinary college. However, his first day doesn't quite go to plan when he ends up insulting Professor Ritchie, without knowing who he is. Herriot is sent on his first job – to find the cure for a sick horse – but misdiagnoses the illness (much to the annoyance of the owner of the horse)
Episode 2
5.08 million viewers
James Herriot is called to deal with a deadly mystery epidemic on a farm but when he misdiagnoses the problem he realises that he could have wrongly pulled a family apart – but is there anything he can do to make it right? Meanwhile McAloon is presented with an opportunity he cannot refuse and Professor Gunnell gets a shock.
Episode 3
4.99 million viewers
James Herriot struggles to balance his politics and his career as a vet after he takes a job at Jenny's parents' kennels (Mr and Mrs Muirhead); however, their fascist sympathies soon come to the boil and present a serious problem for both James and Professor Ritchie. Meanwhile Professor Gunnell pushes on to try and get Whirley out of the college and James is left facing a hard choice.